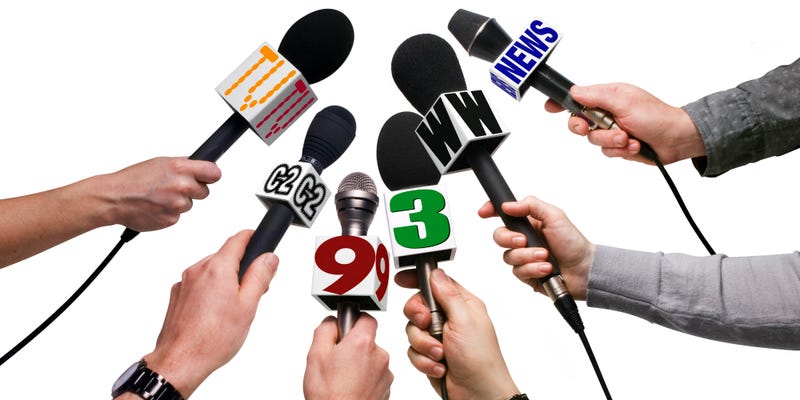 An 8th grade class from the International School of Brooklyn visited the GMG offices today. We divided the class into three groups and gave them two hours to report and write a story, using our staff as sources. Here's what they wrote (with some light edits).

First of all, what is journalism? Here's what Brendan O'Connor and Ashley Feinberg, members of the investigative team at Gizmodo, think.
"Fundamentally, it's about holding important people's information to the people," said Brendan. Overall, the two journalists seem happy with their jobs, because with them come many benefits, or the "adrenaline of knowing something that nobody else knows," as their co-worker Tom Scocca explained. However, as Ashley shared with us, there can be a downside- not in the job, but in the journalist environment and reader acceptance. "The atmosphere can be very difficult, especially when it has to do with credibility because of all the fake news out there… and then being accused of lying."
As Ashley explained, there are some serious problems with credibility in today's worldwide media. This is because it can be accessed by many, which is both a good and bad thing. Now, aspiring journalist and advocates can have their voice, but this also means that absolutely anyone can contribute -or withhold- information.
As can be observed in recent incidences, while many journalists have freedom of speech, it can be filtered and monitored by the government, which drastically undermines their ability to report faithfully and accurately in an unbiased manner. It also puts the writers and their sources at risk, especially when the text written could be provocative to the government. Not only does this occur in the United States, but even more so around the rest of the world. Syria is a good example of this environment, as it lacks the freedom of both speech and press, and other states under dictatorship such as North Korea demonstrate this to the extreme.
According to Human Rights Watch, a non-governmental organization centered on human rights and advocacy, journalists and international reporters are willing to take the risks not only of being in the middle of a conflict but also of being physically assaulted and receiving direct threats of kidnap. The question is, why do they take the risk?
The Dangers of Being a Journalist
Being a journalist faces many issues both safety-wise and pressure-wise. Many journalists around the world endanger their lives for the sake of their organization, and in extreme cases, some don't make it. Pressure-wise, journalists withhold a lot of stress because they have to make sure their information is completely correct and so that their articles are unbiased. Journalists always have to make sure that they are unbiased and concise when typing up articles or interviews because any person from any belief system should be able to read the article and not feel persecuted or unfairly blamed.


Interview With a Journalist
Today, we went behind-the-scenes into the office to get some of the journalists' opinions. Marcello began the interview by asking Tom Scocca why he chose to pursue journalism.
Tom then answered that it is "Because I like writing!" He also mentioned that there's a special feeling that comes with it, almost like the adrenaline of knowing something that no one else knows.
Marcello then asked if location affects journalism and how.
"Yes, it does," said Tom. "In some countries, they do not have the freedom of speech- not everyone has the opportunity to write and read."
Athéna also asked what he did and did not appreciate about journalism.
"I like the basic nature of the job of finding information and telling people about it," he answered. He also mentioned that he tended not to like organizations that diffuse false information."


Interview With the CEO
Raju Narisetti is the CEO of Gizmodo Media Group, he has worked previously as a journalist at the Wall Street Journal. Raju mentioned that it was as if "journalism is in my DNA" because his father was working in journalism and his mother was an English teacher.
First, Marcello asked what journalism is all about.
Raju Narisetti then answered that journalism is about reflecting the honest truth to the readers.
What is your favorite aspect of journalism? Marcello asked.
Raju answered that he loved telling stories to people all around the world. He also mentioned that he loves the fact that journalism "reaches a lot of young people".